Search through whole website content (choose between "or" and "and"):
The Expert
Admitted as officially appointed and sworn expert in all European Union countries and in all other European countries.
The publicly appointed and sworn expert will be liable for his expert opinions to an unlimited extent (judical decision of the German Federal Court of Justice). Please make sure to choose only officially appointed and sworn experts for your case, since only these experts are subjected to a constant technical and personal supervision by the Chamber of Industry and Commerce in charge. These experts will be familiar with the expert law. Please note that the title "expert" is not subject to legal protection. Thus, any individual may call himself expert for a special field. Only the addition "publicly appointed and sworn in" is protected and merely a corresponding expert owning the round stamp is allowed to bear it.
Expert opinions may be delivered in
the following languages:

German 
English

Information on officially appointed
and sworn experts
The officially appointed and sworn expert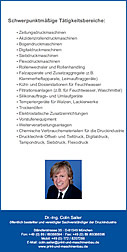 ​
Please note my
ideas in the monographs.

View (PDF)
Member of BTE e. V.
specialized group mechanical engineering,
FUEDI Loss Adjusting Expert

read more (PDF)